Los Angeles Central Library: A History of Its Art and Architecture
by Arnold Schwartzman and Stephen Gee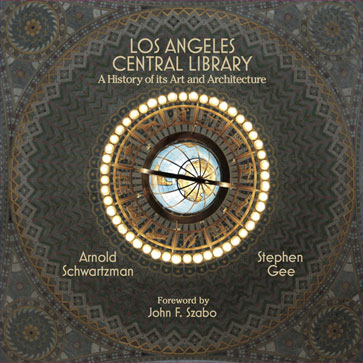 From the fight to build a new building in the early 1900s, to the fight to keep it standing during the mid '70s, this profusely illustrated book follows the course of LA Central Library. As author Stephen Gee aptly states: "Like the history of the city in which it was conceived, the saga of the Los Angeles Central Library is a powerful tale of politics, ambition, and reinvention."

The book chronicles the Library's course through its several locations prior to the now-historic 1926 building by Bertram Goodhue, to its disrepair, fires, and ultimate 1993 restoration and addition by Norman Pfeiffer, FAIA, of Hardy Holzman Pfeiffer.

It should be no surprise that a book about a library would have historical documents to show. A sepia-toned photo from 1889 shows studious patrons in its City Hall location, while a newspaper editorial illustration implores citizens with an image of a defeated reader surrounded by piles of books ("Los Angeles! YOU NEED A LIBRARY").

Arnold Schwartzman's contemporary photography presents many delightfully artful details throughout the building that only the most intrepid visitor would be able to hunt down. Not only are the finished elements of the building shown, but blueprints and preparatory materials are juxtaposed with both historic and contemporary photos, adding to the richness of discovery.

There is discussion of city librarians, but the main focus here are the architects, artists, and craftsmen who created this veritable temple to the written word. Individual chapters herald the creative forces involved—"The Architect," "The Associate Architect," "The Iconographer"—honoring the achievements of Goodhue, Carleton Monroe Winslow, Hartley Burr Alexander, Lee Lawrie, Julian Ellsworth Garnsey, Dean Cornwell, and Albert Herter. In a subtle tribute, the book's main text is set in Cheltenham Roman, a font Goodhue designed in 1896.

Angel City Press; 240 pages; hardcover, $45; softcover, $30.